The debut of Fausto Carmona went about as well as you could've hoped as he went 6 strong innings, giving up only one run (which could be erased if Peralta's lazy throw to 1st is ruled an error after further review) to the Tigers, who at this point in the season have baseball's best offense. Carmona didn't look overwhelmed at all on the mound, and seemed to be in complete control. He mixed his sinking fastball and slider nicely to get some strikeouts and some very timely groundouts that allowed him to get out of a few tight spots. It didn't hurt, of course, that the Tribe put a 2 spot on the board in the 1st inning for the rookie, allowing him to relax from the first pitch and pitch free and easy. But, he continued to throw strikes throughout the game and didn't get hit too hard the second time through the Tiger lineup, a common problem with young pitchers.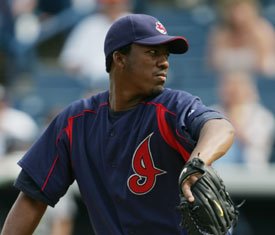 Carmona's mound presence and preternatural maturity make him a candidate to force himself into the conversation of staying on the pitching staff if he keeps having starts like his MLB debut. I'm certainly not suggesting that the Indians would take a veteran pitcher out of the rotation to make room for Carmona, but he certainly present the Indians with a nice problem (similar to what the Twins have with Soriano and the White Sox have with McCarthy), in that the "6th" starter is a Major League-ready youngster who is too good to wallow in AAA.

Whether he could stay on as the long man and allow Jason Davis to move further along in the pen (because Davis, to this point, looks to be well-suited for the bullpen) remains to be seen. By the way, Fernando Cabrera went on the 15-day DL with an ankle injury (though he said right after it happened that he was fine) to make room for Carmona. What that means is that Cabrera will get some rehab assignments to get his confidence back, that Jason Davis will stay on in the bullpen, and that Danny Graves has incriminating pictures of either Mark Shapiro or Eric Wedge, or both. The bottom line on Carmona's debut is that it at least gives the Front Office some confidence that his stuff translates to the Major Leagues.

So this is what Hafner is capable of with a healthy elbow? He is absolutely crushing the ball, AND is drawing walks on top of his astounding hitting. Just a thought, but when Hafner comes to the plate at the Jake, the JumboTron should show a flock of geese making a noise that is akin to "Pronk, Pronk, Pronk…"
Great note in Saturday's PD that Hafner has embraced his nickname as his dad went to Winter Haven wearing a shirt that said, "PRONK'S DAD", while his girlfriend wore a shirt that said, "PRONK'S GIRL". If you don't like Hafner, you're crazy.

Has anyone else noticed Aaron Boone's average creeping closer to 2005-territory? Obviously, Terry Pluto has. After starting off the year hitting well, Boone has cooled noticeably. After Friday night's game, he's hitting .231 and seems to be regressing to swinging at the first pitch and hitting A LOT of pop-ups again. If he doesn't improve, noticeably, expect Boone to move into the Utility spot (replacing the always-whiffing Ramon Vazquez) to allow Andy Marte to be promoted to Cleveland. It won't happen soon, but I have a feeling that it WILL happen, maybe around Memorial Day.

Todd Hollandsworth's game today, 2 doubles, 2 RBI, and one fantastic catch in LF, gives me a little more confidence that he may be OK as the 4th outfielder. While he underwhelmed in Spring Training, the fact that he sat on the bench for 10 days and came out and played well today could mean that he is well-suited for that 4th outfielder spot.

This handling of the 1B "Platoon" doesn't really fit into the definition of a platoon, in the pure sense of the concept. When Perez starts, he is pinch-hit for when a RH pitcher comes in. However, if Broussard starts, Perez does not come in when a LH pitcher comes in. The result, when Broussard faces those LH pitchers is unimpressive, if not disastrous in the sense of a 3-pitch strikeout. Maybe it's just the Benny the Bumble B (a nod to Mordechai) bias, but Broussard still looks lost out there, particularly when Wedge lets him face a lefty.

Nice victory today to stop the losing streak, with a terrific debut from one of the Indians' young guns. Time to go out tomorrow to take game 3, and the series, from the Motor City Kitties.